Welcome to the IPPA website
IPPA is an "umbrella" organisation, established in 1976, with a remit to bring together interested groups and individuals from around the world to increase knowledge of the diseases of the embryo, fetus, neonate and child and promote its application to the health needs of all countries.
The main means by which it pursues these goals are by facilitating contacts between paediatric pathologists; organising conferences and teaching programmes; and by encouraging publication in the fields of developmental, paediatric (also spelt: pediatric) and perinatal pathology.
Membership is drawn indirectly from Affiliated Societies (PPS, SPP, SLAPPE, ANZPPG and JSPP) and directly from individuals working in regions not covered by Affilliated Societies.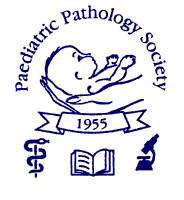 The Paediatric Pathology Society (PPS), started in 1955 as the Paediatric Pathology Club. The Society exists to promote paediatric pathology in its widest sense.
The company is dedicated exclusively to scientists involved in the study of normal development and diseases of the embryo, placenta, fetus and children through adolescence inclusive and educational purposes.
The Australian & New Zealand Paediatric Pathology Group. Their objective is to promote training in paediatric pathology by instituting scientific discussions, demonstrations, lectures and seminars.
The Society for Pediatric Pathology, founded in 1965, is an educational and scientific organization of physicians and scientists who share a common interest in this vital field.

Using IPPA's Course Material for Training Purposes
Graduates & Members of other Pathology Organisations are free to use any of the material their password allows them to view within the IPPA website, for their own training & Continuing Professional Development (CPD) use.
All we ask is, never copy or try to pass any material from the IPPA website off as your own. Also, always give the appropriate acknowledgement to the originator of the material.
To Register for IPPA Advanced Courses
If you would like to attend the next IPPA Advanced course, please download, complete & return the IPPA COURSE WAITING LIST FORM
Vale Dr Ivo Leuschner
It is with much sadness that I inform you Dr Ivo Leuschner, passed away on 29 January 2017 after an accident.
Dr Leuschner was a highly skilled and experienced pathologist who was well respected by his colleagues all over the world. He was a previous secretary and council member of IPPA, and IPPA course tutor. He will be deeply missed by all who knew him.
We extend our thoughts and condolences to his family at this very sad time.
Jane Dahlstrom, on behalf of the IPPA council